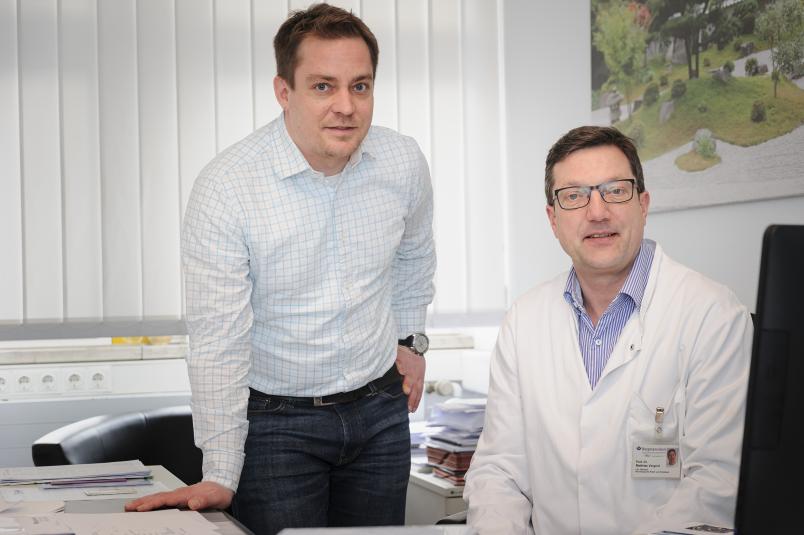 Muscle weakness in the legs, an unsteady gait, permanent risk of stumbling – symptoms such as these are common in people suffering from muscle disorders. However, the patient who came to the university clinic Bergmannsheil with these health conditions didn't match any known diagnosis. Following thorough examinations, the Bochum-based doctors realised that they were dealing with an entirely new disease.
"We carried out numerous additional diagnostic investigations," explains Prof Dr Matthias Vorgerd from the Neurological Clinic Bergmannsheil. "But we were not able to isolate the responsible gene or protein at first." As other members of the patient's family were likewise affected, the doctors assumed the disease was a hereditary one; together with private lecturer Dr Sabine Hoffjan from the RUB Human Genetics Department, they initiated detailed genetic analysis – and made a discovery. The BICD2 gene was altered in all patients. The cause was subsequently verified after a second affected family had been examined.
BICD2 had been known to be a trigger of diseases – but nobody had yet described a BICD2 syndrome that manifested itself in altered skeletal muscles. The problem always originated from the nervous system. Now, doctors observed pathological changes in the lower leg and femoral muscles, whereas no changes were identified in the nervous system. Matthias Vorgerd decided to get to the bottom of this new muscle disorder. "It is important to describe the disease as thoroughly as possible, in order to arrive at statements regarding the heredity process, progression, and therapy options," explains the neurologist. He additionally consulted the research group headed by Prof Dr Wolfgang Linke from the RUB Institute of Physiology.
The physiologists under the auspices of Dr Andreas Unger performed various lab tests to analyse cells from the biopsies of affected patients. Initially they recorded high-resolution images with the electron microscope. These images showed significant alterations in the normally very orderly arranged muscle structure. Myofibrils, basic components of muscle fibres, were observed with degenerations, other cell organelles were likewise affected. Mitochondria, the energy suppliers of cells, appeared with different shape and the Golgi apparatus, a post office for protein sorting, was larger and more dispersed than normally.
What is known is: when the pathologically changed BICD2 gene is translated into a protein, one single wrong amino acid is built in due to the defect in the genome. It doesn't take more than that to strongly impair the function of the protein. The mutation is dominant; individuals whose chromosome in a chromosome pair carries a pathological mutation will develop the disease.
Source: Ruhr-Universität Bochum